B2B e-commerce is and remains in flux. This is nothing new. But how can B2B companies take an agile approach to actively shaping the transformation and reacting to changed market and customer needs. We are speaking with Tobias Giese, Executive VP of Customer Success at Intershop, about the impact of artificial intelligence and a concept with lots of potential to change e-commerce in the future: Autonomous commerce.
Tobias, why should the use of artificial intelligence be on the B2B e-commerce roadmap of manufacturers and wholesalers?
Because manufacturers and wholesalers which use artificial intelligence in order to personalize their sales and service process including customer interaction along the entire buying journey are more successful than their competitors. According to Forrester, companies already using AI on a large scale are seven times more likely to become market leaders. Therefore, manufacturers and wholesalers are well advised to start investing in appropriate AI technologies. Hesitating too long would mean running the risk of soon becoming superfluous.
Does this mean that the IT budget will decide the fight over B2B market share?
Yes and no. The IT budget and the associated readiness of C-Level management to invest in innovative e-commerce technologies certainly play a decisive role in surviving in the B2B environment. For manufacturers and wholesalers to be able to secure a long-term competitive advantage, however, they require visionary ideas and concepts which can be used to improve commercial relations with their customers, partners and suppliers and need to be able to adapt to changed market and customer requirements in an agile manner. To do this, you need a team of talented minds to implement this concept with consistent focus on the customer. That's because using AI essentially comes down to two things: efficiency and a perfect, personalized customer experience.
In other words, both sides benefit from the use of artificial intelligence, the buyer and the seller?
That's right. The use of artificial intelligence in e-commerce offers numerous benefits to both the buyer and the seller. Thanks to AI-based personalization, the buyer benefits, for example, from relevant and customized product suggestions and recommendations. To do this, buyer data such as purchase history, preferences and behavior patterns are analyzed. On the one hand, this can lead to an improved buying experience and accelerate buying processes. Sellers can use AI to optimize and automate their processes. AI-based systems can, for example, help with managing the inventory and automatically generating orders. This can increase efficiency and reduce the costs. AI technologies also play a major role when it comes to increasing sales and customer retention. Doing this, for example, using order and product data, allows for accurate predictions of when the customer will be running low on consumables or if a machine part needs to be replaced. This creates numerous opportunities for positioning corresponding product and service offers.
Just like many sector analysts, Intershop believes that the future of e-commerce lies in autonomous commerce. Let's get down to brass tacks: What does autonomous commerce actually mean?
Autonomous commerce is more than just a buzzword for analysts and sector experts. It is the logical development of all trends and innovative technologies we are currently seeing in e-commerce. This includes AI-supported personalization functions, digital customer portals with comprehensive self-service options, intelligent machines, but also OS-independent mobile technologies such as progressive web apps and many other developments and ideas that are revolutionizing the sector. In a nutshell, autonomous commerce refers to a form of e-commerce that ensures efficient interaction between purchasing, sales, supply and return processes using artificial intelligence (AI) and automated systems. Ultimately, it's all about creating a self-governing commerce experience between buyers, merchants, suppliers, partners, and the Internet of Things (IoT), to simplify the customer journey and make every merchant decision backed by AI.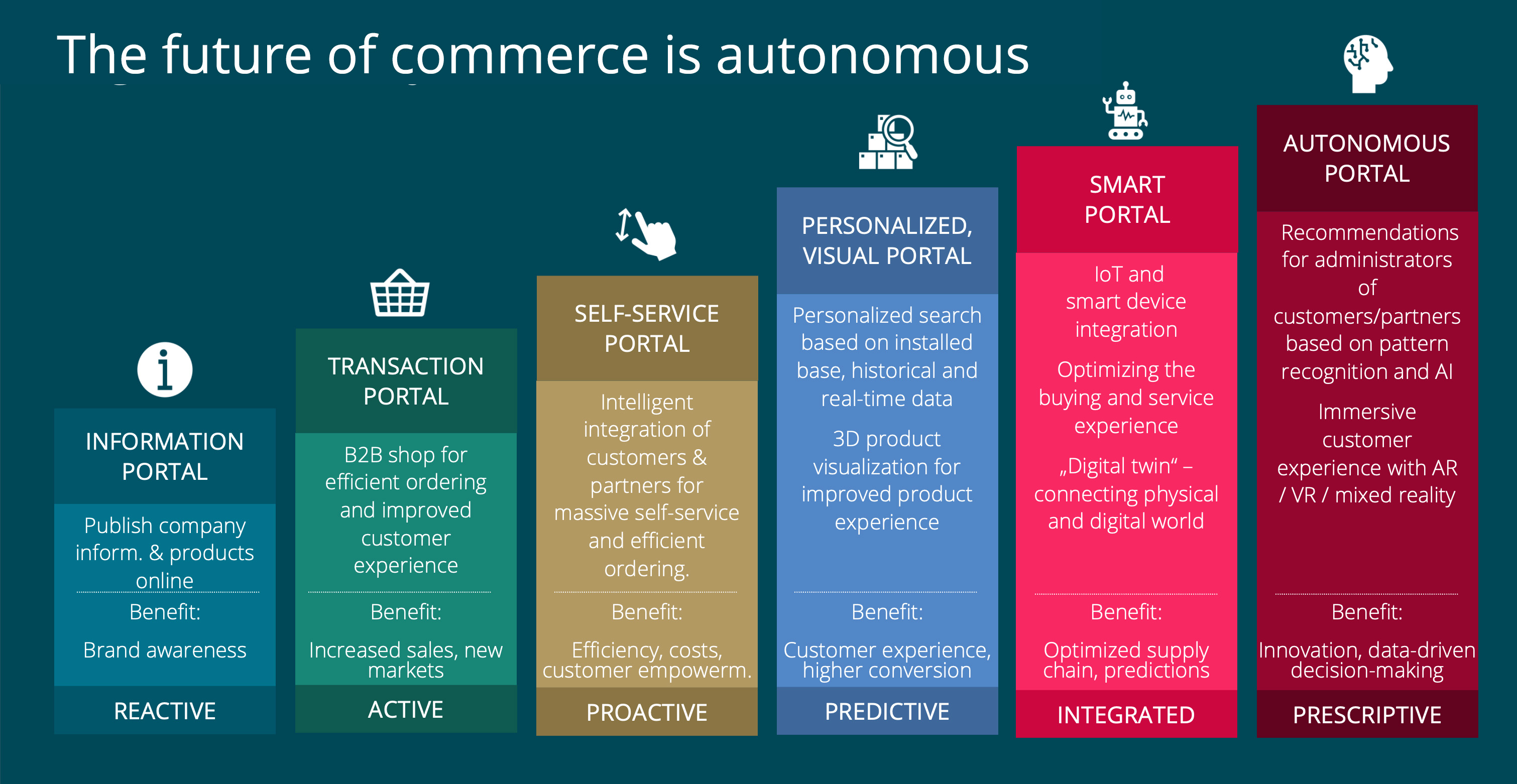 Figure: The evolution of B2B e-commerce
What are the benefits of autonomous commerce for B2B companies?
Autonomous commerce offers B2B companies the various benefits and potentials for raising their online business to the next level. First, this includes an improved customer experience: Autonomous commerce allows companies to create a seamless and personalized buying experience for their customers. Using artificial intelligence and machine learning gives them the opportunity to analyze customer data in order to adjust product recommendations and offer personalized promotions. Second, companies which use autonomous commerce can create competitive advantages by providing services faster and more efficiently than their competitors. This can help companies to win over and retain customers in a highly competitive market. Third, companies can automate repetitive tasks such as inventory management, order processing and shipping, leading to increased efficiency and costs savings. Last but not least, autonomous commerce allows companies to scale and boost the growth of their business. By, for example, automating important business processes and using AI to support decision-making, they can concentrate on the essentials: innovation and expansion.
This all sounds very tempting—almost too good to be true. Is it really this simple to implement the vision of autonomous commerce?
Simple is a relative term. Of course, there are challenges that B2B companies must overcome before they can enjoy the benefits of autonomous commerce. For example, various systems need to be integrated in order to record and analyze data from incredibly diverse sources. This is because artificial intelligence requires large quantities of data in order to train algorithms properly. Moreover, the B2B companies need to be able to ensure the quality of these data. Unfortunately, we often have to deal with data silos that need to be broken down before the data can be processed, analyzed and properly used. We are seeing many companies starting to merge their data in a data warehouse or a customer data platform. This allows data to be linked together, offering companies the opportunity to make data-based decisions. However, there is another, simpler way to overcome data silos, and that involves using knowledge graphs. These provide a better means of recording and presenting information, without having to transfer data to another database or a data warehouse. This helps with creating algorithms used by machines for decision making. But it's not just about machine learning. The human factor is indispensable for leading AI and autonomous commerce to success.
So, it's all about the right balance between innovative technologies and human resources?
Exactly. In order to realize its full potential, technology needs to be combined with flexibility, adaptability and comprehensive human experiences. B2B companies know their customers and their products inside out. That's a big plus. It is advisable, however, to train employees in AI in order to ensure that the data and the results are interpreted and assessed correctly.
How can Intershop specifically support B2B companies in implementing autonomous commerce?
At Intershop, we love and live the vision of an intelligent future for B2B e-commerce. Our goal is to provide buyers and dealers the best technologies and services to make their work and life easier. For this reason, we are continuing to develop our Intershop Commerce Platform and provide AI technologies that support e-commerce managers in designing their online business to be more efficient and more profitable. This includes, for example, tools for realizing a personalized buying experience: Our solution for intelligent website search and SPARQUE.AI recommendations allows manufacturers and wholesalers to optimize their conversion rates and increase customer satisfaction. Moreover, we offer a low-code Integration Hub, which pre-integrates the existing system of a company (ERP, CRM, PIM, etc.) to ensure seamless data exchange and process automation. Our portfolio also includes a BI & AI Data Hub which can be used to optimize stock levels and forecast sales, just like a high-performance order management system that automates the entire process of order entry, allocation and control—from stock management to shipping, delivery and, if applicable, returns. In addition, the Intershop Customer Engagement Center can provide customer support services such as, for example, browsing and order-on-behalf wizards in order to provide customers with rapid, personalized support. We therefore offer a wide range of technologies and functions which we use to bring the vision of autonomous commerce to life together with our customers and partners.
Thank you very much for your valuable insights! What tip would you give to B2B e-commerce professionals who have discovered the potential of AI & automation for themselves?
Just get started! Get started today with using artificial intelligence profitably as part of initial use cases. You will be amazed at how quickly you can positively influence the customer experience and buying decisions of your customers. Building on your initial successes, you can implement other application scenarios step-by-step, integrate innovative technologies and thereby make the idea of an intelligent B2B e-commerce future a reality. Don't hesitate to contact us if you need assistance!
Would you like to know more about autonomous commerce? Then download our free Digital Trends Report now!