B2B organizations need to embrace those initiatives that improve customer satisfaction. This often goes hand in hand with greater efficiency and growth. Therefore, a different mindset within organization is oftentimes necessary – demanding particular leadership.
During this session, the B2B Expert Group answered the question: What is the importance of leadership in change management and digital transformation?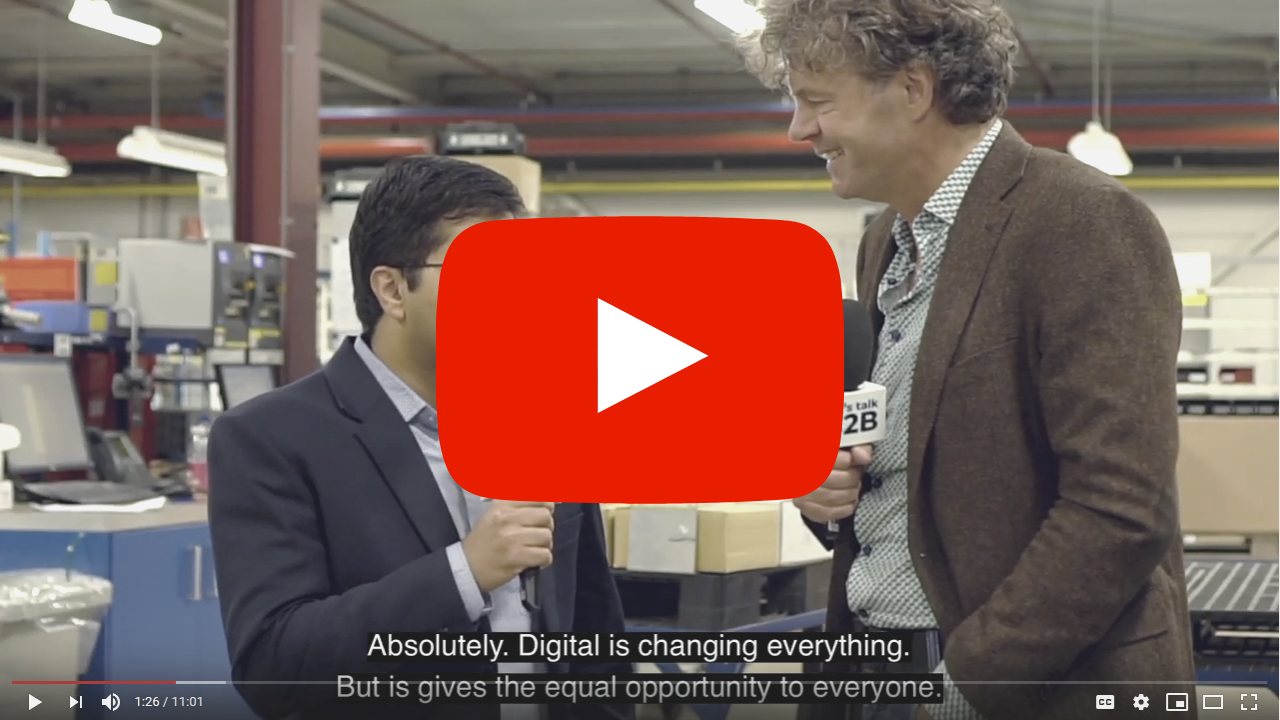 Herbert Pesch (director of B2B digital agency Evident) and Roelof Swiers (Intershop) are chairmen of the Expert Group. The group meets at the sites of the members in order to get firsthand impressions and insights from each of the experts. This time, the session took place at Fabory, a specialist in the field of fasteners and related products. Fabory is active in 11 European countries and exports its products all over the world. Since 2011, Fabory is part of W.W. Grainger Inc., a Fortune 500 Company and one of the largest international suppliers of maintenance and repair products.
Keep the momentum going
Vasuki Muralidhar, Chief Digital & Information Officer at Fabory: "First of all, in this market it is important that "Digital" and IT are one team. If you turn IT into a separate department, you'll lose momentum. But speed is exactly what you need when it comes to digital transformation." Parent company Grainger has a strong track record when it comes to digital: Starting with digital commerce as early as the 1990s, nowadays the major part of their turnover comes from digital channels. This makes Grainger an example when it comes to e-commerce in B2B.
Innovation driven by strategy
Innovation is not necessarily in the DNA of wholesale business. But helping the customer is. When the two come together - innovation with the aim of providing the ultimate customer experience – businesses make great progress in the area of e-commerce.
"At Fabory, we have reduced everything related to digital to two things: growth and working more efficiently. This strategic direction is the benchmark by which we measure everything. Does it contribute to growth (new customers and markets) or do we work more efficiently with it? That's all that matters."
Digital transformation
Muralidhar sees three things that should always contribute to either growth or efficiency:
Strengthen the core: Make sure your (product) data, IT systems and internal processes are in order. This is the basis from which you start your digital transformation.
More efficient customer contact will save time and money. A digital order will result in cost savings of 50%. In addition, you will learn what your customer needs.
Experimenting and exploring: The role that novelties such as 3D printing or IoT play need to be examined in relation to the customer journey.
Resistance
New digital initiatives are sometimes greeted with resistance. You often hear that online sales would be at the expense of offline sales. Muralidhar: "I don't think that's the discussion that needs to be held. What matters is that the business grows, regardless of the channel by which it does that. When the online channel grows, celebrate! After all, this proves that you are meeting the needs of your customer. Does it create attention? Good, then it grows further. Remember, growth is one of the two most important objectives."
The fact that some people oppose the online channel is old news and a common reaction to change. That´s why it is important to explain internally why digital is so important! Also, set your sales KPIs accordingly. Once people have understood what digital can do, they - almost always- become enthusiastic about it.
Vasuki has an additional comment: "You always have to ask yourself whether digital is the ideal solution for your organization. If, for example, you are a manufacturer, then e-commerce may not be the answer, but maybe a form of electronic ordering, connected to your ERP. You should consider e-commerce when you can do business with it. Digital must have added value and solve a problem. It's up to B2B players to find out where the customer's problem lies and how you can solve it."