In a recent event, Intershop, Wunderman Thompson, Contentful, and Bunzl discussed the changes to the B2B buyer's journey based on The B2B Future Shopper Report 2023. The report surveyed more than 2.2k B2B buyers from 11 countries. We've summarized the key findings in this blog article. You also can watch the on-demand recording here:

B2B buying is changing
Many B2B organizations are undergoing digital transformation, including the adoption of powerful B2B e-commerce platforms. This shift is driven by the need for increased efficiency, reduced procurement costs, streamlined processes, and improved customer experiences – and it has received a major boost in the last two years, due to the COVID crisis and working from home (WFH). According to the B2B Future Shopper Report 2023 by Wunderman Thompson, 49% of all B2B spending is currently online, rising to 57 % in 5 years' time.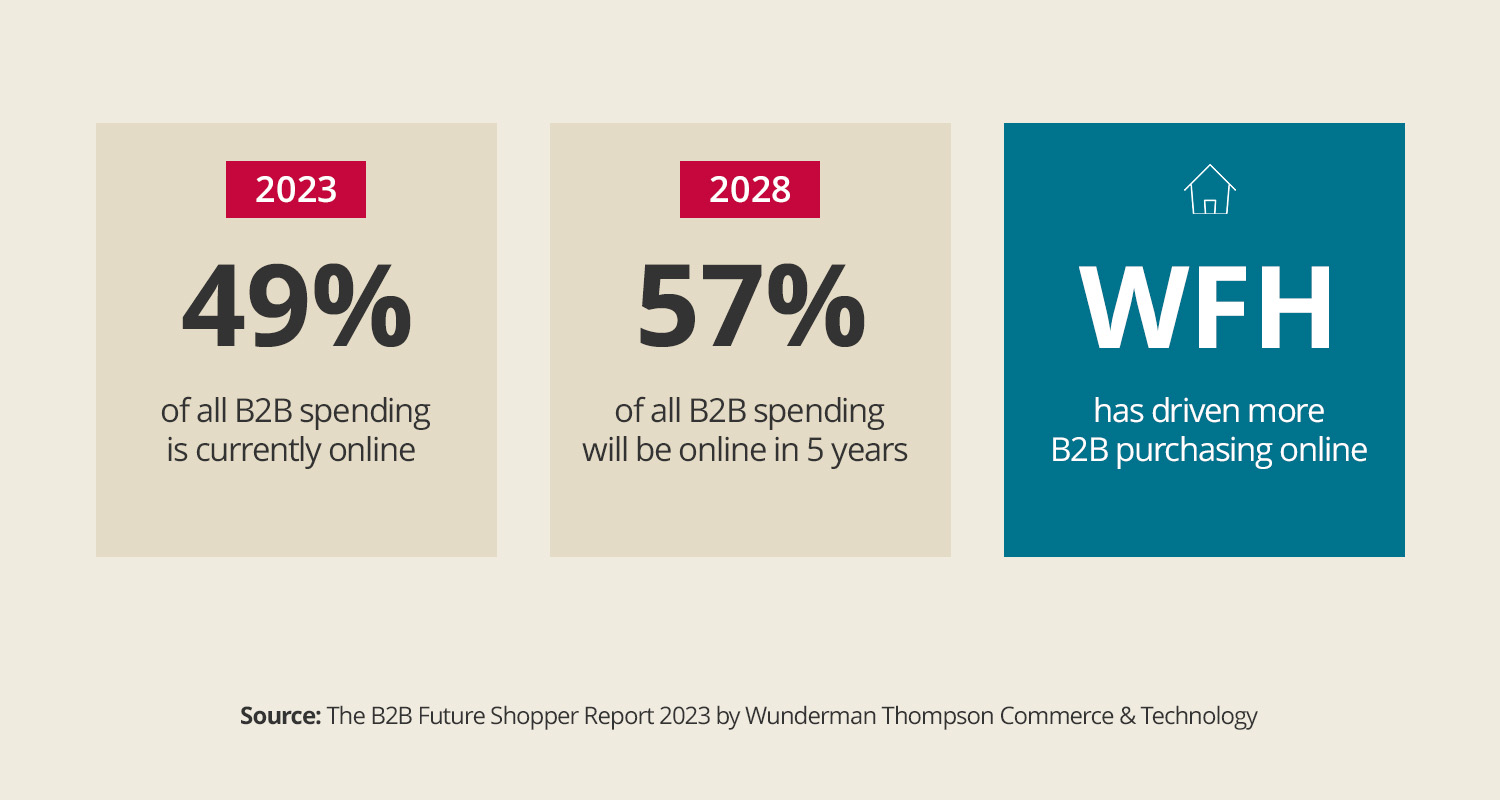 That means that B2B organizations need to intensify their digitalization efforts to support the changing buying habits of increasingly demanding B2B customers. These corporate buyers are experiencing increased pressure due to the socio-economic events of 2022. According to the report, their biggest challenges include:
Increased costs of raw materials (24%)

Increased costs of fuel/energy (23%)

Product availability (22%)

Supply chain constraints (22%)

Goods & services becoming too expensive to source/purchase (21%)
These challenges have led to a B2B market that is full of churn. 40% of global B2B buyers say they've changed ALL their suppliers in the last 12 months. 43% say they have changed SOME of their suppliers. Regarding the challenges above, it is no surprise, that four of the top five reasons for customers leaving are related to pricing and payment: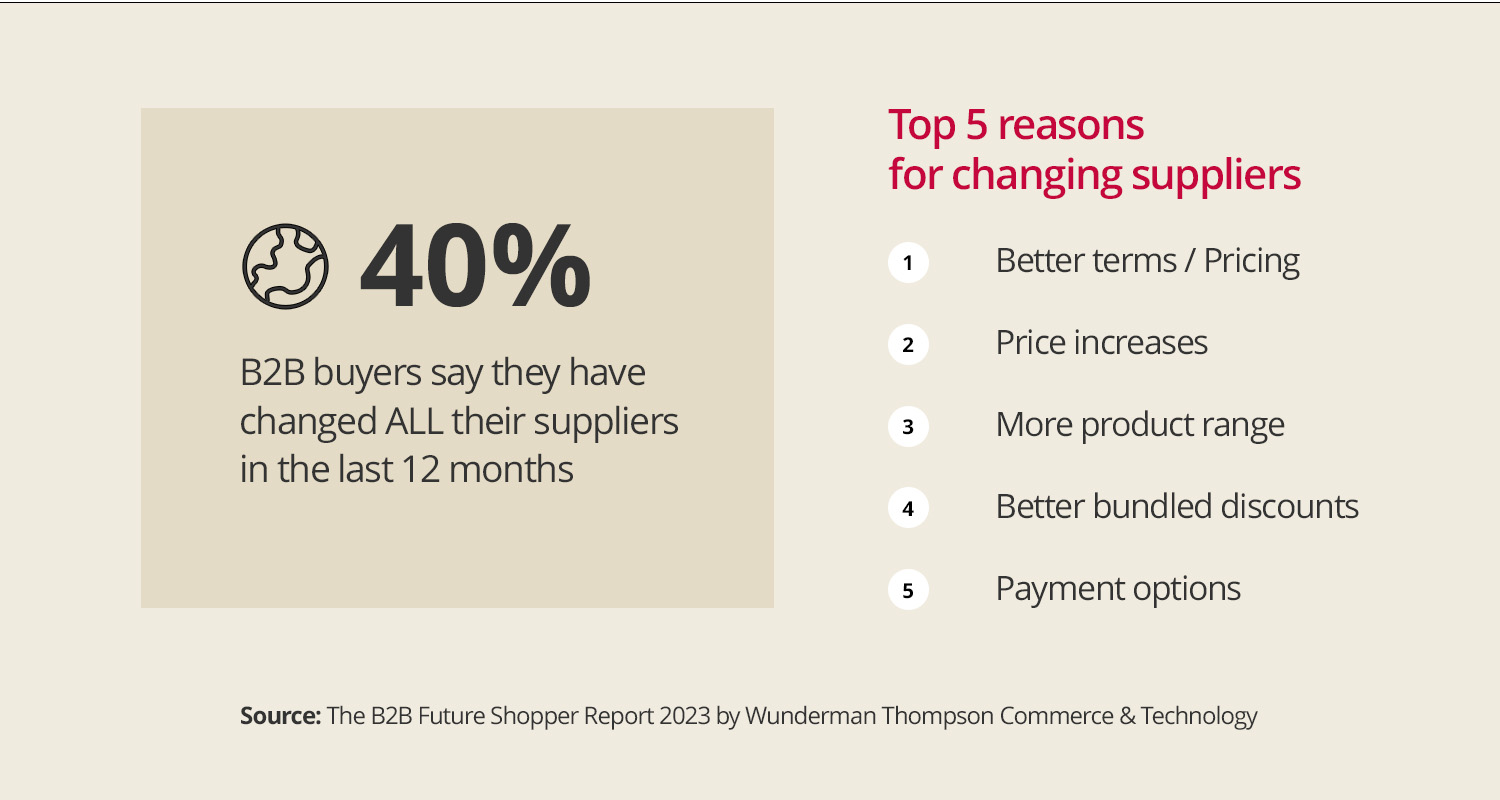 B2B buying is increasingly digital and omnichannel
Let's take a closer look at the B2B buying journeys. As mentioned earlier, 49% of all B2B spending is currently online. But this doesn't mean that 51% of B2B buyers don't use the online channel at all. In fact, a total of 67% of the respondents say they start their B2B purchasing online. That means B2B buyers prefer omnichannel and expect to connect with a vendor from any location, using the channel of their choice, and to be able to switch seamlessly between touchpoints at any time.
That's why multinational distribution and outsourcing company Bunzl interacts with its B2B customers in various ways: via digital channels, sales reps or the customer service team. However, as digital orders are easier and cheaper to handle, Bunzl tries to convince customers to use digital channels: "We want to give customers many options to trade with us digitally, through web shops, Punchout integration, EDI, iOS/Android apps, handheld scanners, pdf2xml conversion etc. Result is that we are taking 70% of our orders in Europe digitally now," says Stephan Rieff, IT Manager E-Commerce at Bunzl Continental Europe.
Offline + online is a winning combo
The omnichannel approach allows B2B customers to seamlessly interact with the seller through multiple touchpoints, such as online shops, digital customer portals, sales reps or physical stores. These hybrid sales strategies are particularly successful in B2B e-commerce where products are more complex, order volumes and values are higher, and buyers need detailed information, guidance, and support to make a purchase. The B2B Future Shopper Report confirms this desire for digital AND physical experiences in B2B: 71% of B2B buyers like to shop with businesses that have both physical stores and online ordering platforms.

The digital experience needs to improve
Despite the rise of B2B e-commerce, frustration with buying in B2B is high!
46% of global B2B buyers say they are frustrated with buying B2B products online

45% of global B2B buyers say that buying online is more complicated than offline

51% of global B2B buyers say that B2B sellers don't have a grasp on the friction points
In fact, B2B buyers think not enough is being done to optimize the B2B buying experience. 66% of the survey respondents expect a B2C-like buying experience when making a B2B purchase. They want, e.g., faster delivery (23%), easier returns (22%), ratings and reviews (20%), more product choices (19%), and more convenient delivery (19%). This means that being a B2B seller does not give you a free pass for a poor experience! B2B organizations must meet the increasing needs of B2B buyers to remain successful and outperform their competitors.
Intershop, therefore, offers a powerful e-commerce platform that supports the full B2B buying journey. Gerrit Enthoven, Executive VP Customer Acquisition at Intershop, says: "It starts with creating awareness for products by providing personalized experiences and search results that match the current context. For example, by taking  into  account  seasonality or brand preference. Then we can support the configure-price-quote process by logging in on the session with the client, responding to quote requests, etc. Furthermore, we try to make the ordering process as easy and efficient as possible with pre-filled order templates. Today we can even support B2B buying with AI to recommend exactly the products the customer is expected to need."

B2B e-commerce trends to keep in view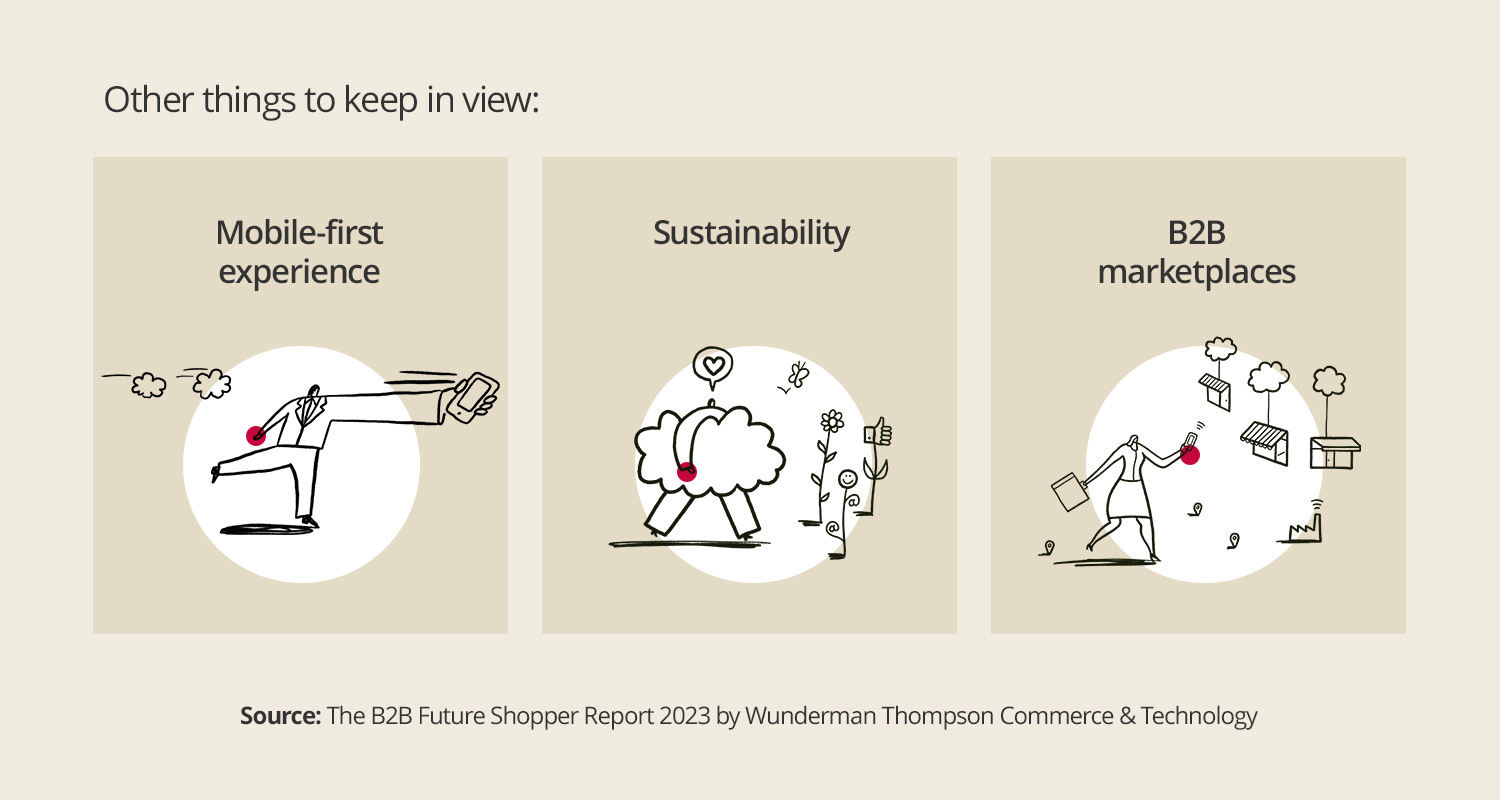 Mobile-first experience
Let's talk about mobile commerce. According to the Wunderman Thompson report, 71% of global B2B buyers wish they could buy B2B products more easily on mobile and 66% expect a better mobile experience from their suppliers. Progressive web apps (PWAs) and OS-agnostic mobile technologies do the trick here. For B2B brands and businesses, using a PWA is perhaps the most effective and easiest way to create high-performing (mobile) websites that don't need app development, a download, or installation. The benefits of PWAs include:
More speed: Progressive web apps load content quickly and can even be used offline or within unreliable network conditions.

Less space: PWAs don't need to be downloaded or installed. This eliminates the time-consuming download of an installation package, and PWAs require much less storage space than a native application.

More compatibility and reach: PWAs are accessible via an URL. This provides two advantages over native apps: On the one hand, the content can be found by search engines, and on the other hand, URLs can be shared more quickly and easily via social networks.

Better conversion rates: PWAs have a great conversion rate because they enable popular native app functionality and offer an improved user experience with speed and ease of use.
Did you know that Intershop offers a powerful progressive web app that helps B2B organizations deliver a reliable, user-friendly interface for an outstanding customer experience and higher conversion rates? Click here for a demo.
Sustainability in B2B e-commerce
Another key trend is achieving sustainability in B2B e-commerce. 7 out of 10 global B2B buyers (69%) say they wish they understood the carbon footprint impact of the products they order. 65% would even accept slower delivery if it meant that delivery was more environmentally sustainable. This is where order management systems (OMS) come into play. Powerful OMS solutions, such as the one from Intershop, are an essential tool to achieve e-fulfillment sustainability because these systems allow B2B organizations to control their entire omnichannel fulfillment operation. Decision-makers can, e.g., prioritize, define and establish a set of rules for processing orders: dealing with the most profitable orders first, reducing waste and time by bundling orders that go to the same location or nearby, or even establishing new delivery routes or warehouses in more efficient ways. Sounds great, doesn't it? (Read more about order management systems here.)
But, how does Bunzl tackle the challenge of becoming a more sustainable e-commerce company? "Our purpose is to deliver essential business solutions around the world and create long-term sustainable value for the benefit of all our stakeholders," says Stefan Rieff. "Bunzl actively helps customers to transition to more sustainable products, by exchanging their existing portfolio with reusable, recyclable products. We also have a specific brand, Verive, which consists only of reusable, recyclable products. Any product purchased from that brand is sustainable. The offering is constantly growing."
The rise of B2B marketplaces
B2B buyers of all sizes are turning to marketplaces to purchase products and services. In fact, 11% of B2B spend is via marketplaces already. Why is that? The answer is easy: Marketplaces offer B2B buyers a large selection of products from different sellers, competitive prices, inspiration, and above all a very efficient way to purchase products online. After all, it is tempting and saves time to find and purchase all products at one marketplace. 56% of the B2B buyers, however, say that the degree of customization B2B marketplaces offer could be better. B2B organizations with a marketplace strategy should therefore focus on personalizing the B2B buying experience and leverage the potential of digital customer portals and AI-based search and recommendations.
Would you like to know more about the future of B2B e-commerce? Watch our expert talk and profit from valuable insights and best practices to improve your online sales and customer satisfaction!