With the rise of e-commerce in B2B, adapting the sales force to the new processes often proves to be a tough challenge. How do you get your saleswomen and salesmen to embrace and stimulate the possibilities of digital commerce? And what do you have to pay attention to during this transition? The fifth meeting of the B2B expert group "Digital Commerce" revealed these six practical tips from experienced experts.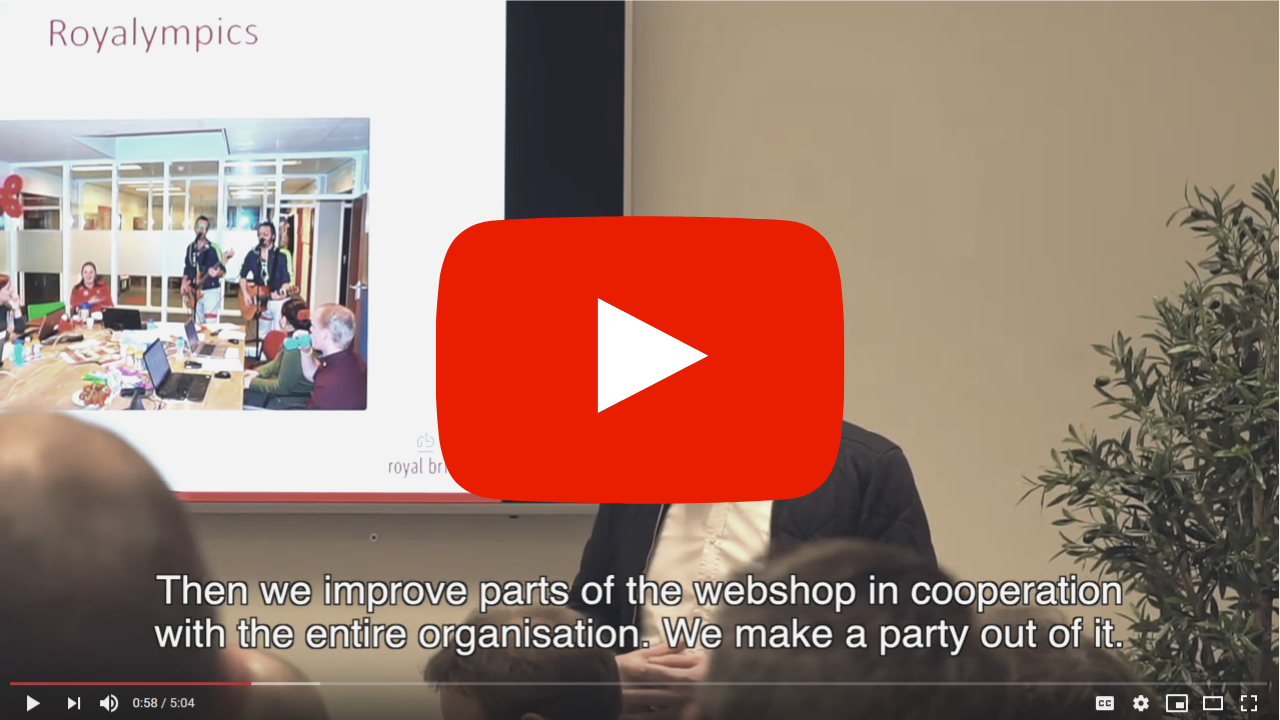 Sales alignment was the focus of the first meeting of this expert group in 2018, hosted by digital agency Evident and e-commerce platform supplier Intershop.
A shining example of a company that is well advanced in the transformation to a single, joint sales force that works both online and offline is glasshouse horticulture supplier Royal Brinkman. During the presentation by their e-commerce manager, Rob Helderman, the first three tips came forward. The experiences of the Technische Unie and Hanos were also discussed at length and led to 3 more tips. They are all based on the idea that hardly anyone, at any company, has a natural impulse for change. The strategy to help the organizations change and get people on board has six key components:
1. Ease
Until recently, an account manager of Royal Brinkman, supplier of the greenhouse horticulture sector, drove from client to client to collect their orders personally. This labour-intensive process was mainly focused on order acceptance and was time-consuming and error-prone.
To perform this online is many times faster and more efficient: by exploring the online ordering possibilities together with the customers, they get to know the system, the desired articles are entered immediately and the account manager can work more efficiently (and remotely) in the future. The large majority of customers also indicate that they prefer to place recurring orders online themselves. This is just one example of how Royal Brinkman communicates with its customers to encourage the transition from offline to online sales. An important advantage is that the account manager spends much less time advising, offering more added value to existing customers and attracting new ones.
Another example is the Knowledge Base set up by Royal Brinkman. Some questions came in quite often and were sometimes difficult to explain. In order to help clients faster and enhance their overall self-service quality, Royal Brinkman has set up an online database where customers can find answers to frequently asked questions. In order to support the answers, instructional videos have been made, where experts answer those questions personally. This has several internal advantages: employees have more time for complex tasks due to not of having to answer many recurring questions, they learn to work with online content on a daily basis, and they can bring in their personal knowledge and play a part in the instruction videos. By this, the experts got the chance to present themselves, which quickly became very popular.
2. Fun!
At Royal Brinkman, "Royalympics" are organized several times a year. Literally the entire organization, be it online or offline experts, is involved in improving the web shop: what's not easy to find? Which functions are not intuitively to use? The first time this was performed at Royal Brinkman, the team documented more than seven thousand options for improvements.
In addition to working, such an event is also fun! Every now and then something nice comes along. This can be a band or even a wine tasting. As long as one thought stays the main focus: change for the customer is fun!
3. Involve sales in customer panels
Sander Bredewout, Marketing and e-commerce Manager at hospitality supplier Hanos, talks about the importance of testing the new e-commerce environment. Of course with customers, but also together with the account managers. By this, the sales people experienced first-hand impressions and saw how positive the customers reacted to the online ordering environment, resulting in a lot of understanding and enthusiasm. "I noticed that account managers are now much more involved in e-commerce and regularly come up with ideas for improvement. All employees were also kept informed about the new developments of the web shop. This has resulted in a great deal of positive appreciation."
4. Team approach
The central question is: what is the team? Previously, there were separate e-commerce and sales teams with an - almost literal - wall between them. In order to make sales enthusiastic for e-commerce as well, this had to change. At Royal Brinkman, when the team was successful online, cakes were given to the e-commerce department some 4 to 5 years ago. Nowadays, these successes are celebrated throughout the organization.
Also at the half-yearly and year-end meeting, the e-commerce team produces "Thank You" movies. In this way, express their gratitude to the rest of the organization for thinking along with them about the innovations in the online sector.
5. Invest in ERP connectors to your customers
More and more customers are busy digitizing their processes. In order to respond to this, Technische Unie has invested heavily in supporting so-called System-2-System integrations. However, according to Sjoerd Sipkema, they try to connect customers as much as possible with OCI Punch-out solutions. "Here, the customer prepares the order in the web shop and then automatically receives it in the corresponding ERP". As a result, the order and payment usually take place automatically. His advice: contact the software vendors to develop connectors that directly integrate e-commerce software into your client's ERP.
That sounds like a process which is preceded by a substantial investment. It is, but because of the sharp decrease of administration costs and because you can also reuse the connector for other customers, the ROI is typically high.
6. Facilitate sales with new insights
Sipkema also emphasizes the importance of data to the group from several angles. He says: "Huge amounts of data are being built up that provide interesting insights about customers. By sharing these insights with sales people, you give them the opportunity to give even better advice. Digital commerce is changing the role of sales from order intake to a more consultative role. Of course, the sales team also plays an important role in actively promoting the new digital possibilities and assisting customers in their digital strategy.
Many B2B organizations still have a tough challenge when it comes to the alignment of sales, marketing and e-commerce. Talk to other people who have struggled with this: