With B2B e-commerce, manufacturers and wholesalers can quickly open up whole new direct sales (and interaction) channels. However, e-commerce is already a commodity in private lives. Established players regularly release new functionalities that customers appreciate. How can B2B organizations keep up?

Digital B2B commerce today is more than just a "nice accessory" - it enables manufacturers and wholesalers to retain customers, improve their customer satisfaction, expand sales with up- and cross-selling, attract new customers and reduce your cost per transaction. Many B2B organizations have already websites or buying portals in place, but those are often technologically outdated, monolithic and not focused on serving customer needs.
This article explores some aspects to improve customer satisfaction in B2B:
What differentiates the customer satisfaction in B2B commerce from B2C?
In general, there are three main differences that influence the customer satisfaction in B2B when compared to B2C e-commerce.
Customer Profile: In B2B, customers are professionals who tend to make rational decisions and focus on the features and characteristics of the products. As a consequence, the purchase decision is planned and made by a board to meet a critical need of the company.

Purchase Process: Since the purchase decision in B2B usually involves greater risks and significant financial investments, the purchase process takes a lot of time and is very complex, based on business requirements and business logic, and it is usually a repeated purchase.

Customer Relationship: B2B buyers prefer to invest in a lasting relationship that does not end after the purchase. Therefore, the lifetime value of B2B buyers is much higher than that of B2C buyers. This makes customer relationship management more complex and customer satisfaction and retention even more important.
The purchase process can be made easier by an intensive personalization. While B2C personalization is aimed at driving sales by making the customer add more items to the shopping basket, often by "impulse buys", B2B personalization must be more sophisticated. It is unlikely a B2B customer will engage in a procurement process on impulse. Instead, B2B personalization must create value and efficiency for the user.
It is not rare that manufacturers have lists of thousands of spare parts for a configurable machine. B2B commerce can help here. By tailoring the presented assortments of parts and accessories to a personal customer profile, the customer satisfaction can go through the roof. Matching spare parts, accessories and services to the installed base of the customer leads to fewer errors, lesser returns and a strong customer relationship.
What impact does the digital maturity have on customer satisfaction in B2B?
It is also important to understand that manufacturers and wholesalers – but their clients, too – are continuously developing themselves through stages of digital maturity. If the customer is digitally mature, a non-intuitive commerce website will have a huge negative impact on customer satisfaction - but in the same way, a very fancy, smart customer portal can overwhelm customers that are used to only work via fax, phone or sales reps.
"The real challenge is not getting started, it is taking the next step continuously."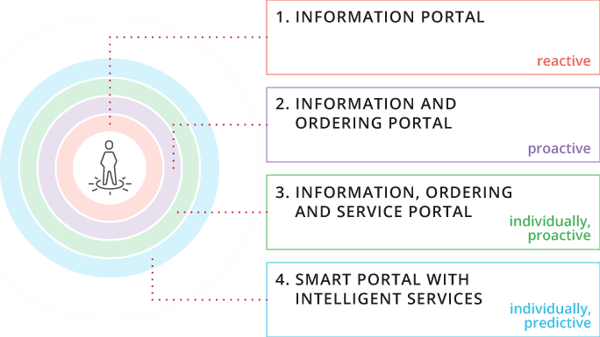 Customer satisfaction in B2B is depending on the digital maturity of the company and the customer
The first step organizations should take is providing a digital information portal, in which customers have access to digitized product information and find a nearby seller.
This can be evolved into an information and order portal, with basic shopping functionality to increase margins. But the real customer focus will be established by a personalized one-stop-shop, supporting them to find only relevant products quickly, manage order templates and subscriptions of consumables. Of course, new (self) services find their place here too, to combine all aspects of a customer lifecycle. This is called a Digital Customer Portal.
The voice of industry leaders on digital commerce and customer satisfaction in B2B
The good news is, the manufacturing industry is already at the tipping point towards being digital, and customer satisfaction is already the focus. In a recent survey among executives, one thing became clear: Due to the increased use of digital tools (EDI, E-Commerce, Digital Marketing etc), B2B companies are really trying to get to know the customer better and serve them based on the collected data, making it easier and more personal for the customer to order their products.
Our data says, professional buyers nowadays look for information online, but most but are hesitant to purchase on a portal. The reasons are most likely that either customers are too immature (digital-wise) or the platforms lack the necessary user experience or specific functionality.
But this will change rapidly. Most of our survey respondents will invest more in digitization this year than in 2021, with a 1-20% increase in the budget for digitization investments, indicating that adaptation and integration skills are needed to become a customer-centric organization with a digital vision. Download the full report here:
3 tips on improving the customer satisfaction in B2B flexibly
New business models, tools and possibilities to improve the customer satisfaction in B2B are constantly emerging - and they require innovative solutions. Old, inflexible e-commerce solutions with limited functions very quickly reach their limits under such conditions, and restrict the entrepreneurial scope for action.
Here are three tips how you can keep you customer satisfaction high:
Tip #1: Have a wide range of B2B functions ready to use

Modern B2B e-commerce platforms offer end users a wide range of functionalities tailored to the specific requirements of a B2B business right from the start.
This goes far beyond what is standard for B2C platforms. In particular, the close and complex relationship between selling companies and purchasing departments on the customer side finds its digital equivalent here. But configuration options for changing business models or internationalization projects are also part of the repertoire.
Tip #2: Ready your commerce platform for new touchpoints or devices
The fact that mobile devices such as smartphones and tablets are gaining ground in B2B e-commerce has become the new norm, and responsive design is now a matter of course.
With voice assistants such as Alexa, Siri and Cortana, there are now other devices being added as touchpoints, with which B2B platforms must also communicate if they are to keep the customer satisfaction high. Future-proof e-commerce solutions can therefore no longer do without appropriate interfaces.
For example, Intershop customer Martin & Servera connected the Google Voice Assistant to their e-commerce system to meet their customers' needs. Erik Hjort, e-commerce manager, explains: "Needed kitchen supplies are often written on pieces of paper or on whiteboards, before being collected and ordered by the buyer. What if we could simplify that process with the Google Assistant and get rid of the whiteboard and scraps?"
Read more about this exciting customer case: OK Google, order tomatoes!
Tip #3: Stay close to your customer
If you want to know what exactly your customers expect from you, you have to ask them. Only those who regularly enter into dialog with buyers and seek to exchange information can fulfill wishes and help solve problems.
Once a modern B2B platform has been installed, tools for querying customer opinions and pain points on an everyday basis can be easily integrated. On the one hand, this ensures the continuous flow of information, on the other hand it demonstrates appreciation and strengthens customer loyalty.
---
Are you interested in the latest insights regarding B2B e-commerce and the adoption of digital technologies - and how these topics will evolve in the future? Download the must-read for manufacturers in 2022: