There is a feasible pressure to innovate e-commerce. This is further intensified by the influence of mobile commerce. It is no longer sufficient to simply offer an online shop in order to meet the mobile demands of the market.
The current standard for mobile is a classic website with a responsive design that can be accessed via (mobile) browser. Some companies, however, additionally offer native apps. These have to be developed separately for different operating systems (mostly iOS and Android). If compared, there are advantages and disadvantages between responsive websites and native apps.
In terms of customer loyalty and user experience, (a.k.a. a high conversion rate) native apps have a clear advantage. However, mobile websites have a higher reach because their content can be indexed (and thus displayed) by search engines.
A hybrid of both approaches is a Progressive Web App (PWA). Such a mobile website provides its content accessibly for search engines. However, it has the look and feel of a native app that enables intuitive navigation and better performance.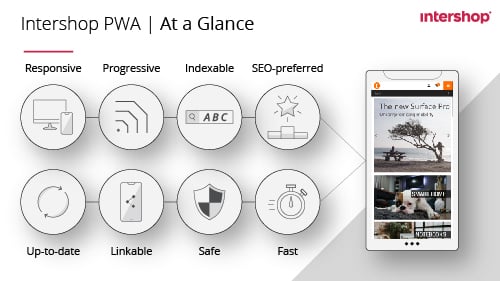 Fast load
A big advantage of the PWA is the fast load of content. So-called service workers enable efficient caching. At the same time, relevant data is updated in the background. This makes it possible to recall and cache resources in advance, manage offline requests and much more. A PWA is up and running in an instant and can even be used offline or within unreliable network conditions.
Less disk space than native apps
You don't need to install a PWA via an app store. Therefore, users don't need to install and use another app. This eliminates the time-consuming download of an installation package. In addition, a PWA requires much less storage space than a native application. The Twitter PWA, for example, is only 3% the size of the comparable app.
Low data consumption
With a PWA, the contents of a website are only cached locally on the smartphone. This data minimalism is also consistently continued in use. This is an important factor, especially when taking limited data volumes into account.

Push notifications for more commitment
When users are not on your website, it is difficult to make direct contact. PWAs allow you to send push notifications. As with native apps, they can provide users with information and offers to motivate them to interact. OLX has been able to increase the re-engagement rate through push notifications by 250%.
Easy access to web applications
A PWA can be accessed from any browser, regardless of the operating system. It can also be easily added to the home screen (at least under Android). After that, the customer experience is comparable to this of native apps.
No App Store necessary
The user doesn't have to search for the PWA in the App Store. In addition, the no certification process is required, neither do updates require confirmation from the App Store.
More reach than native apps
PWAs are simply called via an URL. This provides two advantages over native apps: On the one hand the content can be found by search engines, on the other hand URLs can be shared more easily via social networks. A bonus: Google rates fast loading pages better!
Better conversion rate
The conversion rate of a native app is 120% higher than that of a web application. PWAs have a similar effect because they have popular native app functionality and provide a very good user experience. Navigation within the PWA is consistently smooth. This is crucial for user retention. More than 40% of the users abort the process if a loading process takes longer than 3 seconds. With every additional second, the conversion rate drops by an average of 7%.
Less development effort
Instead of developing separate native apps for Android and iOS, the advantages of all applications are combined in one PWA. It makes multiple development for different platforms superfluous and still covers their purposes.
Conclusion
There are many good reasons to implement a PWA. Customers are offered a convincing mobile experience. At the same time, companies benefit from more ready-to-pay users and lower costs for development or user acquisition. This results in a better return on investment.
Used correctly, a PWA is the ideal basis for a successful mobile commerce strategy. The Intershop PWA is therefore the perfect basis for fulfilling your individual commerce requirements.
Do you have a special request? No problem, the Intershop PWA can easily be extended with additional features - such as a QR code scanner.
We will be happy to support you!